Family Programming
Angelina Ballerina Return To Vital Theatre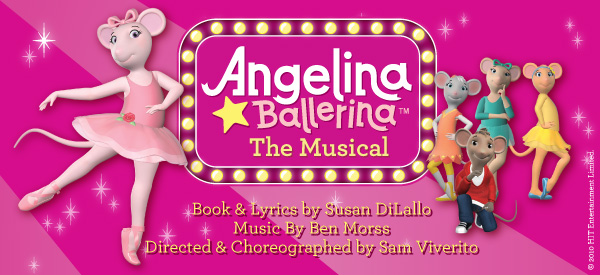 Vital Theatre Company
2162 Broadway, 4th Floor

January 18th - January 26th
Saturdays and Sundays at 1:30 pm and 3:30 pm

February 1st - April 27th
Saturdays and Sundays at 11:00 am and 1:00 pm
Premium Seating - $59.50
Regular Seating - $39.50

In ANGELINA BALLERINA THE MUSICAL, Angelina and her friends, Alice, Gracie, AZ, Viki, and even their teacher, Ms. Mimi, are all aflutter because a special guest is coming to visit Camembert Academy! Angelina and her friends will perform all types of dance, including hip-hop, modern dance, the Irish jig and of course, ballet, and they are excited to show off their skills to their famous visitor. Angelina is the most excited of all, but will she get the starring moment she hopes for? Based on the CG-animated series, Angelina Ballerina The Next Steps on PBS KIDS®, ANGELINA BALLERINA THE MUSICAL is a family-friendly show that will have the entire audience dancing in the aisles.

Visit www.AngelinaTheMusical.com for More Information
Follow Angelina Ballerina on Twitter
Performances run 1 hour and are appropriate for children between 2 and 10 years old.

All children over 1 year must have a ticket.
Junior Performance Camps

Children work with professional teaching artists,
learn performance skills and have tons of fun!

Register now for Spring and Summer Camps
SUSAN DiLALLO (Book & Lyrics) is the recipient of the coveted Kleban Award. Her libretto for an original musical comedy, Iron Curtain, earned her a Jonathan Larson Award, and was further developed during a residency at the Eugene O'Neill Theater Center. Her book and lyrics to another musical, Once Upon a Time in New Jersey, won both a Richard Rodgers Award and The Global Search for New Musicals Competition, Cardiff. Other credits include: the Mattel/Clear Channel production of Barbie Live! In Fairytopia (book, lyrics); That's Life (Outer Critics Circle nominee); Pinocchio, a Musical About Adoption (winner, KIDDstuff new play competition); and the revised libretto for the classic A Tree Grows in Brooklyn.
BEN MORSS (Music) wrote the music and lyrics for Cinderella's Mice, which was produced by Vital in 2006. Cinderella's Mice and his other children's musical, Pop Star, are published by Samuel French. He is an alumnus of the BMI Workshop, arranged the music for the stage version of Trey Parker's Cannibal! The Musical and created music for Anansi the Story King at Georgetown University. He has played piano and arranged for platinum-selling bands such as Cake and Wheatus, and his playing was used in the films Sidewalks of New York and L.I.E.. His own new band, Chariots of Tuna, has been praised on blogs from Sweden to Brazil and, in 2010, will be playing festivals around the world. He leads the nine-piece crossover group, The Infinite Orchestra. He earned his doctorate in music from the University of California at Davis.